StormBasin™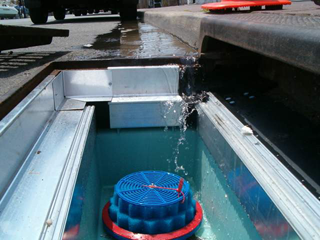 The StormBasin is designed to capture and retain stormwater catch basin pollutants namely: sediment, trash, vegetation, nutrients, coliform bacteria, oil/grease and dissolved metals (e.g., lead, copper, cadmium and chromium).
The large sediment and debris catch basin provides ample storage volume for solids carried in stormwater flows – over 8 cubic ft in the 30″ x 48″ size. The catch basin's design features a "hooded" bypass to reduce the potential for flooding during peak storm events while still retaining sediment and debris. The StormBasin also keeps the captured material dry, simplifying maintenance and reducing disposal costs.
The lightweight filter cartridge comes fully assembled and snaps into place with a quick twist. Filter cartridges are available in various configurations allowing you to fine tune performance by targeting specific pollutants. The modular cartridge design allows quick and easy replacement while containing the spent material for safe transportation and disposal.
Features summary:
Replaceable filter cartridges can target specific pollutants
Durable, aluminum frame with large volume injection molded basin
Covered bypass retains trash during extreme rain events
Adjustable mounting system, long life, competitively priced and low cost of ownership