Helix™
High-Flow Filter System
The Helix is a next generation, high-flow, stormwater filter that can be housed in a vault or installed directly into an outfall pipe. When applied with antimicrobial media it can treat bacteria at a large scale.
Effective Two-Step Treatment Process
The Helix vault is has a two-step treatment process that incorporates an inlet chamber used to reduce clogging from sediments and debris, and a secondary treatment chamber that houses Helix's filter elements. Coarse pollutants contained in the stormwater runoff is captured upfront – this sediment separator treats water at higher flow rates and can be serviced from the surface level with a Vac truck. The pre-treated water exiting the first chamber will keep the Helix filters cleaner, helping maintain flow rates and effectiveness while minimizing the need for maintenance.
Patented Helix Filter Technology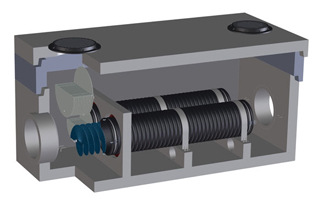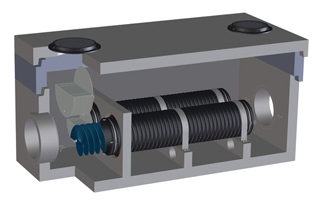 The horizontal filter column design provides great flexibility for selecting the appropriate filter length and diameter for a given flow rate. The Helix elements inside the column(s) function as a multiple disk filter providing tremendous surface area for treatment. The spiral form offers multiple flow paths through the filter which allows the system to maintain a high flow rate while significantly reducing clogging potential.
Each Helix filter column has a designed treatment flow rate of approximately 3 cubic feet/sec. Helix filters are offered as single, double and triple column systems. Filter cartridges are replaceable and can be accessed though a standard 36″ diameter manhole provided in the vault.
Also, each Helix filter column is supplied with an inlet diffuser which is designed to keep any debris that passes through the sediment separator out of the filter column. Of course as a final precaution, each Helix also incorporates a full overflow bypass.